Assistance Harness for Greyhounds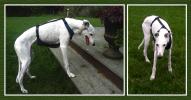 As adopters of senior greyhounds exclusively (almost!), Jerry and I have often wished for a harness that would allow us to help our old kids get up from a lying position, or up a few steps, or to go outside without the physical invasion of trying to cram a towel beneath their frail and uncomfortable old bodies.
When Diana was seen at a specialty hospital in the SF Bay Area, the physical therapist put a "4 Paws Car Harness" on her which was very helpful- the soft padding of lambs wool beneath her chest allowed her to wear it all the time- those harnesses are available at Petco Stores should you have an emergency need.
Though helpful, it wasn't made for a greyhound's long body and we wished for something more- something along the same lines, but better!
Our wish was fulfilled by Carol Becker who created this custom fitted harness for our Alice, just when we needed it most. Alice was one of those flighty little girls who vehemently resisted any sort of treatment or help, so her last week with us would have been even more traumatic had it not been for this comfortable harness that allowed us to lift/steer/assist her by using the top strap and without seeming to invade her personal space. If only we'd had one for all our osteo-dogs....
We were so impressed that we suggested adding her harness to our website so senior-lovers everywhere would know where to find one when it was needed. Not only is Carol a wizard at sewing, but she also contributes all her earnings to greyhounds in need.
To order, just email Carol and she'll describe the measurements she needs to create a custom harness for your greyhound.