The Rainbow Bridge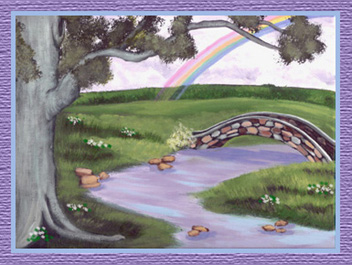 Just This Side of Heaven is a Place Called Rainbow Bridge....
When an animal dies that has been especially close to someone here, that pet goes to Rainbow Bridge. There are meadows and hills for all of our special friends so they can run and play together. There is plenty of food, water and sunshine and our friends are warm and comfortable. All the animals who had been ill and old are restored to health and vigor; those who were hurt or maimed are made whole and strong again, just as we remember them in our dreams of days and times gone by. The animals are happy and content, except for one small thing: they each miss someone very special, someone who was left behind.
They all run and play together, but the day comes when one suddenly stops and looks into the distance. His bright eyes are intent; his eager body begins to quiver. Suddenly, he breaks from the group, flying over the green grass, faster and faster. You have been spotted, and when you and your special friend finally meet, you cling together in joyous reunion, never to be parted again. The happy kisses rain upon your face; your hands again caress the beloved head, and you look once more into those trusting eyes, so long gone from your life, but never absent from your heart.
Then you cross the Rainbow Bridge together...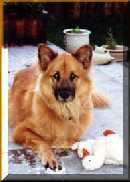 SCHROEDER BROCKHOFF
1991-2001
Gentle Leader To So Many Greyhounds

CARL LEWIS BROCKHOFF
1985-1993



ESSIE BROCKHOFF
1985-1997


SADIE BROCKHOFF
1986-1998



LISTEN



Listen - can you hear your name?
He's calling you - my friend
Although you're slipping from me now -
This is not the end...........
A new life is about to start
Where you'll be free from pain
Old age - you'll shrug off like a cloak
And you'll be young again

Listen - can you hear Him call?
His voice is soft and low
And as you leave this earth behind
Remember - as you go....
I'll not forget you my dear friend
though we may be apart
Your mem'ry will remain with me -
Forever, in my heart

Listen - He is calling still
Reaching out and so....
Take His hand and slip away
It's time for you to go
So many happy times we've shared
These, sadness can't erase
I feel that we're together still
Tho' we've gone separate ways

I'm listening - but there's no sound
You must have heard his voice
We both knew that the time had come
We knew there was no choice
You've breathed your last - your eyes are closed
But this is not the end.....
For life at Rainbow Bridge awaits
Rest In Peace - dear friend.


by, Judy Zatonski
a friend to greyhounds in England


DAVE BROCKHOFF
1988-1999



BILLIE BROCKHOFF
1989-2001



MIKIE BROCKHOFF
1995-2001


MANDY BROCKHOFF
1990-2005



RAMBO BROCKHOFF
1991-2003


TRICIA BROCKHOFF
1987-2002


BABY HUEY BROCKHOFF
1996-2002



MATTIE BROCKHOFF
1991-2004

DINGO BROCKHOFF
1992-2005


ANGEL BROCKHOFF
1994-2006



CHARLES BROCKHOFF
1993-2006

RUTHIE BROCKHOFF
1992-2006


DESI BROCKHOFF
1993-2006



DIANA BROCKHOFF
1995-2006


ALICE BROCKHOFF
1992-2007


WOODY BROCKHOFF
1994-2007



MONEY BROCKHOFF
1994-2007

ANNIE BROCKHOFF
1995-2007


TASHA SEARS BROCKHOFF
1993-2007

BRYNN BROCKHOFF
1996-2008

STELLA BROCKHOFF
1997-2010

DEUCE BROCKHOFF
1997-2010

ZINNIA BROCKHOFF
1997-2011

CHAMP BROCKHOFF
1999-2012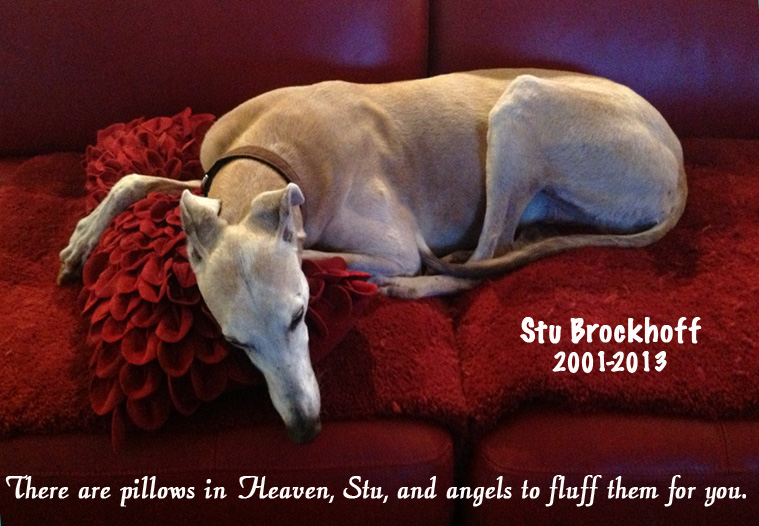 It occurs to me that every time I lose a dog, he takes a piece of my heart with him.
Then every new dog who comes into my life gifts me with a piece of his heart.
Therefore if I should live long enough, all the components of my heart will be dog...
and I will then become as generous and loving as they are.
Cheryl Zuccaro