Featured Items
---
S&G: Gold & silver
Featured Item!

Another by Stems & Gems, this lapis pendant seems to fit Mikie to a T. The sterling bezel holding this raised stone is sterling, but is wrapped with gold fill wire. The background, too, is an etched silver frame, but with a pretty little scalloped edge in gold.
The designer, Marlena Winiarska, designed her own bails which are included on each pendant. The bails can clip on and off of any of the decorative chains, necklaces, or bead strands you may find find at department stores or street fairs - attach your pendant to a new chain to match every outfit!
Watch the video and meet the designer. You'll see how many ways these pendants can be used.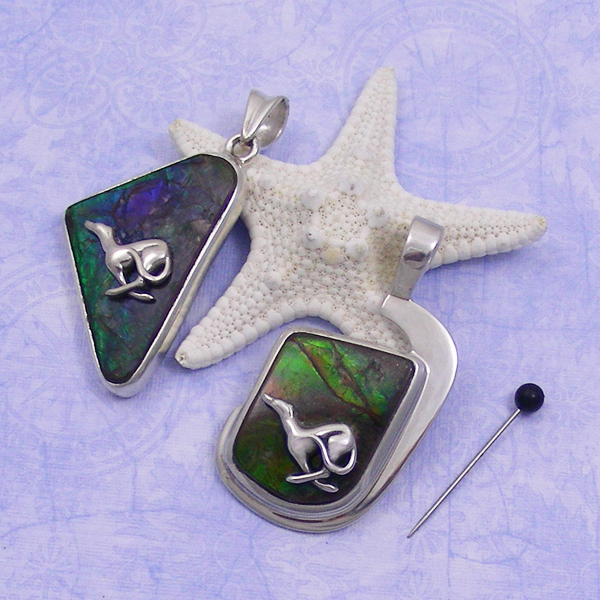 Price: $160.00
---
Lace Agate
Featured Item!

Not just that lovely pale blue of lace agate, but it's carvedwith flowers!
Simple and lovely and Brynn!

Price: $85.00
---
Roaching Pagoda
Featured Item!

Not a very nice name for such an elegant pendant, but I figured readers would rather read "roaching" than upside-down. :)
This hinged pendant actually has five moving parts - as graceful as it is beautiful.

Price: $155.00
---
Azurite Druzy
Featured Item!

I've photographed this with a prop in hopes of reflecting some of the sparkle and natural wave of this appealing stone in its very natural form. The inlaid bail identifies it as an "Absolute" creation- I like everything that company does!
Please note-this is a closeup of a little pendant- be certain to compare pendants to the 1" map pin for sizing in all our photos..

Price: $90.00
---
Defined Pastels
Featured Item!

I really don't know what to make of this lovely little pendants. It looks like inlay with each color clearly defined, but there are no divisions between colors as there would be with true inlay.
Regardless, tiny 8Ball seems to think its the most colorful bed he's ever had!

Price: $90.00
---
Gaspeite
Featured Item!

I was tempted to call this turquoise, but it's not- its a much harder stone than turquoise. My gemstone authority (!) has declared it is gaspeite - at least we think it is!
In any case,it is a starkly simple design (for those of us who prefer that) on a sterling frame with a tubular bail that it making it stand up.

Price: $85.00
---
Stalactite the Second
Featured Item!

I would have called this a geode, but what do I know? :)
Sanche & Filia, the creators of this pendant, call it stalactite, so I'm going with that.
Brynn is the feature for this delicate, colorful and affordably priced pendant.

Price: $55.00
---
Black & White & Grey
Featured Item!

And absolutely UN-colorful but fetching combo of onyx, Mother of Pearl and sterling by Absolute!

Price: $140.00
---
Diamonds....
Featured Item!

Another of the cool wooden pendants- this time with "diamonds" and our original sized 8Ball.

Price: $85.00
---