---
SCREAMING MONKEYS...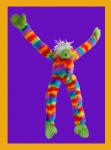 Since our own dogs received monkeys in their 2001 Christmas stockings, Northcoast Greyhounds has sold over 17,000 monkeys directly to dog owners, or wholesale to greyhound adoption organizations. These noisy characters continue to be every greyhound's favorite toy and raise a lot of money for greyt causes!
Click to choose your favorite colors!
The company continues to discontinue colors- the above image shows all the colors now available. Sadly, "naturals" are no longer produced, Brownie, Super Sam and Midnight are now all extinct.

Use the "Comments Box" in the order form to list your color choices.

Turn on your speakers!
Press HERE to tease your greyhounds with monkey screams!

PRICING

1 Screaming Monkey: $12
2-5 Monkeys: $11 each
6 or More Monkeys: $10 each

To receive appropriate discount, please IGNORE QUANTITY BOX to the right;
choose from drop down menu ONLY!



---
Birthday MONKEY!

Birthday Monkeys arrive with a grosgrain bow around their necks, packed in a tissue lined Priority Mail box with a Birthday Card by Dragonflyte Creations and a cookie by All Dog Biscuit Bakery for your Birthday Boy or Girl.
These make greyt gifts for other occasions, too, so we can replace the Birthday Card with a Gotcha Day Card or one of NCG's formal cut-out notecards to commemorate any occason at all! Feel free to include a personal sentiment.

Price: $14.00
---
Wholesale MONKEYS
Not only does NCG contribute 100% of our earnings from Screaming Monkeys, but we're happy to provide them to your 501(c)3 organization at wholesale pricing so you can earn your own funds with a little monkey business at your next event!
To order wholesale monkeys we'll need to know the name of your organization, the date of its upcoming event, and billing information. Because UPS shipping costs are unknown until the package is prepared to ship, we will accept orders by credit card, email an invoice to be paid by your treasurer, or send a PayPal invoice for monkeys plus accurate shipping costs.
Order wholesale monkeys at three discount levels, all shipped UPS for best shipping value:
One dozen monkey "Picnic Pack" @ $$8.50 each
25 or more monkeys @ $8.00 each
50 or more monkeys @ $7.00 each
Accurate shipping costs will be added to your order.

---