---
8Ball's Apple box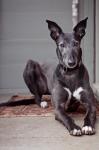 It reminds me of an apple, anyway- does it you too? LOVE the way our original sized 8Ball perches upon the little topmost platform/handle.
Of fossilized material, this box is 3" in height.

Price: $60.00
---
Iggy Box (or....)

It could, of course, be a very tiny whippet or greyhound. It's on a very tiny (1.5" tall) box, after all! The doggie adds another 3/4" in height and serves as a very touchable handle.
the box is of wood with a circle of snowflake obsidian on the top.

Price: $50.00
---
Betty Box

The largest of our new selection of boxes is thss one of fossilized material like the Apple Box, but featuring Betty on the top.
The box measures 2.25" tall and 3" in diameter.

Price: $75.00
---
PB: Wine Not War

Was there ever a better stocking stuffer?
"This bottle stopper takes a lighthearted approach to creating world peace. The Make Wine Not War bottle stopper is cast from Peace Bronze, with an FDA grade stainless steel bottom. So raise a toast to peace today!"
Packaged as shown above.
The reverse side of the stopper reads: "Recycled From disarmed Nuclear Weapon Systems". See more benefits from BeerNotBombs.com below.

Price: $25.00
---
Dave's Box

Triple Daves repose upon this mineral resembling sandstone, though I'm certain it's not.... Whatever it is, it would be an attractive little addition to anyone's dresser!
the box measures 1.5" tall and 3" across.

Price: $65.00
---
Jewel Tone Jewel Boxes

Created by Robert Kieber, a local Humboldt County craftsman, each of these little 2" square boxes has a mirrored bottom and a greyhound as "handle" for opening.
Order one as a gift and we'll gift-wrap it. Or order one to contain your gift and we'll wrap them both together!
Recently restocked.

Price: $40.00
---
Betty Again

Stripes of orange, blue and purple create a colorful background for Betty with a top-line that curves downward on the back
H: 3"
W: 2.5
D: 1.125"
W: 12.4 ounces

Price: $85.00
---
Collar Decor

A collector of antique sighthound buttons, Chris House has chosen this one to reproduce as a fundraiser and in this image, Peaches House appears to be striking the appropriate pose just for its promotion!
You'll see front and back in the photograph, with screws on the back which can be attached to collars and belts of any size.
We'll discount them here to allow owners to use more than one on a collar, or to share as inexpensive but especially thoughtful gifts.
Please note we'll ship orders for 1 or 2 of these these buttons in a gauze gift bag and padded envelope for $3. Larger orders will ship by Priority Mail. Your order will be adjusted for appropriate postage charges upon shipment.
---
PB: Beer Not Bombs!

At last! A gift for guys!
If you look closely, you'll see those are beer bottles being dropped from the plane depicted on this bomb shaped church key of Peace Bronze!
The reverse side reads, "Made from disarmed nuclear weapons systems." and the bottle opener arrives bagged with a label describing the Beers Not Bombs Project.
20% of earnings from Beers Not Bombs is contributed to Doctors Without Borders and The International Campaign to Abolish Nuclear Weapons. And 100% of our earnings benefit greyhound adodption groups- how can yo lose with this $15 stocking stuffer???

Price: $15.00
---
SL: New Pothuggers
A perfect hostess gift for a friend who has everything else- including greyhounds. Or to use in your own kitchen - do NOT be afraid to wash them.
Price: $35.00
---
SL: Still More New Pothuggers!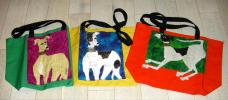 Three sets from which to choose!

Price: $35.00
---
XL 8Ball

If you've admired this XL 8Ball and considered it too large for your tastes as neckware, now you can enjoy him as jewelry for you desk!
Each of these chunks of labradorite features a few of the stone's shimmery colors, but this particular rock appears to have all of them.
H: 3.5"
W: 3"
D: 1.25"
W: 11.5 ounces

Price: $120.00
---