Admirable Resources
The products shown here are not ours, but they are products our family uses from companies we admire. If you have interest in them, you must contact the vendors directly through their links. We're privileged to share these special resources with our friends and customers.
---
* All Dog Biscuit Bakery

I'm told regularly that your greyhounds love the peanut butter heart cookies I include in your mailed orders, so I should have made them available directly long ago!
You can visit owner, Linda Reed, on her Facebook Page or contact Linda by email at alldogbakery@gmail.com

---
* Introducing: Deb Martino
The Beaded Whippet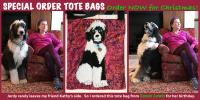 "Deb Martino is well known as the heart & soul of Kokopelli Whippets in AZ, andů.she makes jewelry for YOU inspired by the hounds she loves!
Deb's handcrafted Whippet & Greyhound Jewelry is designed with class & sass! Each piece is special, one of a kind wearable art, so there's something for every one of you sighthound lovers."
I met Deb at the Whippet Nationals in Oregon, in 2013, and was astounded by her artistry! The NCG pendants featured on Deb's necklaces were all purchased at full price, feeding NCG's FUN-Draising endeavor. But little did I know what she was doing with them! Each pendant is artistically enhanced by the similar and contrasting stones she's chosen for the necklaces.
Visit The Beaded Whippet
or contact Deb directly at deb@thebeadedwhippet.com or (928) 301-5011.

---
* Assistance Harness for Greyhounds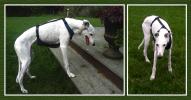 As adopters of senior greyhounds exclusively (almost!), Jerry and I have often wished for a harness that would allow us to help our old kids get up from a lying position, or up a few steps, or to go outside without the physical invasion of trying to cram a towel beneath their frail and uncomfortable old bodies.
When Diana was seen at a specialty hospital in the SF Bay Area, the physical therapist put a "4 Paws Car Harness" on her which was very helpful- the soft padding of lambs wool beneath her chest allowed her to wear it all the time- those harnesses are available at Petco Stores should you have an emergency need.
Though helpful, it wasn't made for a greyhound's long body and we wished for something more- something along the same lines, but better!
Our wish was fulfilled by Carol Becker who created this custom fitted harness for our Alice, just when we needed it most. Alice was one of those flighty little girls who vehemently resisted any sort of treatment or help, so her last week with us would have been even more traumatic had it not been for this comfortable harness that allowed us to lift/steer/assist her by using the top strap and without seeming to invade her personal space. If only we'd had one for all our osteo-dogs....
We were so impressed that we suggested adding her harness to our website so senior-lovers everywhere would know where to find one when it was needed. Not only is Carol a wizard at sewing, but she also administers God's Greyts Greyhound Rescue, the beneficiary of all the income from the Etsy store.
To order, just email Carol and she'll describe the measurements she needs to create a custom harness for your greyhound. Or, NOW you can visit Carol's Etsy Store!
---
* Get Up & Go Supplements

Claudia Presto, of The Greyhound Gang, writes, " In 1995, I founded the Greyhound Gang - to rescue, rehabilitate and adopt out greyhounds no longer wanted by the racing industry. Rehabilitation is an ongoing concern, as racing greyhounds spend upwards of 23 hours a day in crates, and their joints and bones have been pounded with running from a young age.
In 1999, I was working for ANF, Inc. who provided supplements for humans. The company's owner, gave me Glucosamine to give to the greyhounds in my care, and the change in their ability to move was astounding! Bouncing around, doing 360's, jumping up on furniture with ease - the glucosamine gave their joints and cartilage what was needed to feel better and healthy.
"Get Up & Go" was born, when this supportive owner lent me the money to buy the first kilos of white powder, and the venture grew and supported itself from the start as individual owners marveled at the same results I saw.
Purchasing Get Up & Go supplements is a win-win-win situation, because it's a high quality product at the lowest cost and because it WORKS! All dogs, and greyhounds in particular, need supplements to help their joints stay healthy and pain free.
These particular products, produced for humans, have been a double help to the hundreds of greyhounds passing through the Greyhound Gang: it not only helps them return to and maintain good health, but earnings assist the Gang in finding them good homes, too."

---
* Alternative Dog Door!

Wishing you had a dog door but don't want to enter construction-mode? Here's a greyt alternative!
These clear plastic flaps are sized for your individual needs. Ours happened to be for our dog-door-window set in at floor level. You can order them sized for your kitchen door, or for hanging above part or the full length of your sliding door. You cannot imagine the savings in our heating bill last winter after we covered our always-open window-door!
Made by DEMAC Equipment, Inc. in California, contact Dana McNamar directly so he can help design for your own particular needs.
---