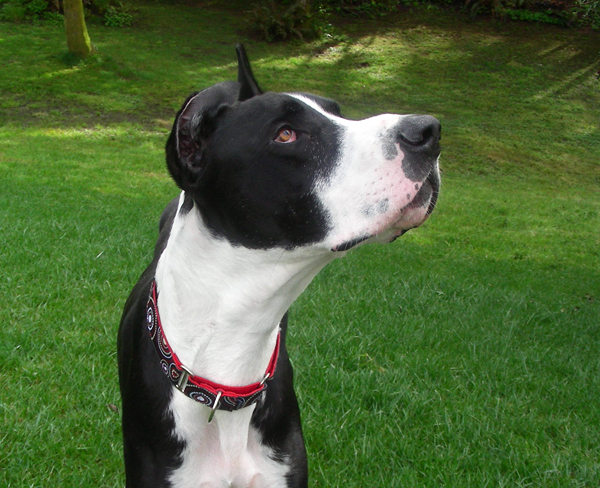 Fabian came to us, a month before his 2nd birthday, from a home with a Mom & Dad who loved him very much, and a 260 Mastiff who didn't. His Mom knew we had room for a Great Dane in both our home and our hearts, and Fabian thrived here. Rather than fearing his new housemates, he played with them and became a friend to all - a truly Greyt Dane.
Yesterday, July 9th, one day before his 4th birthday, we lost our biggest baby to Wobblers syndrome.
For a month, we considered Fabian's gait might be different- we'd see a stumble, but he'd recover quickly. Last week, he was crouching and needed help getting into the van, even with steps. When I called his First Mom to ask about any problems specific to his breed, we were informed his brother had been put down with Wobblers at only 15 months. Immediately, we made an appointment with a neurologist in Santa Rosa, 6 hours south of our home in Humboldt County.
After a full day of MRI, chest xray, ultrasound, and blood work, the neurologist informed us of his findings: 1/C-5-C6 myelopathy secondary to synovial cyst and stenosis, and 2/ L7-S1 disc protrusion. In layman's terms: two locations where disc and cyst were impinging upon Fabian's spinal cord- both indicative of Wobblers.
When Fabian woke from anesthesia, he was paralyzed. Lifted by vet techs with harness and belly band, he could set none of his 4 feet upright. His smooth tummy was red with scrapes and bruises from attempts to lift 150 pounds in hopes he'd help- but he couldn't.
We stayed another day, sitting with Fabian in his special room, laying with him on his padding. The surgeon wanted us to leave him there, alone in that room, until he could perform surgery on the cyst next week. Jerry and I considered that possibility, until we learned Fabian would have to remain there, by himself, for another week following surgery, and would have to be confined, as our Sammie was for heartworm disease, in x-pens for 4 months following surgery.
Knowing that Jerry and I together could not lift Fabian as either of us alone has been able to assist our aging greyhounds, the thought of his long-term confinement with no guaranty at all of positive results, along with the concern of another $12,000 in surgical costs, twice again the cost of the diagnosis, we let our enormous baby boy go while he still remembered running with gleeful abandon.
The chart of breeds at our vet's office listing all dogs and their original purposes, shows Great Danes were bred to "guard the owner's estate", and we teased that that's what Fabian did here. It was his job to respond to every unusual noise outside, racing through the dog door ahead of his greyhound buddies to bark at the fence- or to run head and shoulders above the meadow grasses at our greyhound playground twice a day, assuring all was safe for the family who followed him. For Fabian, that was his quality of life- anything less would have been unfair to all of us.
Fabian had two short, too short years each, with two Moms and two Dads who adored him, and his huge and gentle soul provided us all a sense of living, loving luxury. In our hearts and minds, Fabian is still doing his job, guarding God's estate at Rainbow Bridge where he plays with his greyhound friends and waits for us all...
Please send a little prayer for our big baby boy- that he might sail through rainbowed meadows, making new fast friends until we arrive to give him all the hugs to which he's become accustomed. We're saving them up for him.
Cara & Jerry Brockhoff, Saturday, July 10, 2009
We hope you'll visit Fabian's Memorable Slideshow and view it full size, as a big dog deserves.
Crossing the Bar
Sunset and evening star,
And one clear call for me!
And may there be no moaning of the bar,
When I put out to sea,
But such a tide as moving seems asleep,
Too full for sound and foam,
When that which drew from out the boundless deep
Turns again home.
Twilight and evening bell,
And after that the dark!
And may there be no sadness of farewell,
When I embark;
For tho' from out our bourne of Time and Place
The flood may bear me far,
I hope to see my Pilot face to face
When I have crost the bar.
Alfred Lord Tennyson