You're going to laugh yourself silly browsing through our
MONKEY FAMILY PHOTOS
| | | |
| --- | --- | --- |
| "Do I BITE it? or KISS it? Either way, its a keeper!" (Corben Holewinski) | "This is so undignified. I'm gonna kill this monkey." (Byron Gonsalves) | "They didn't say this place would be Monkey Heaven too!" (Kate Brockhoff) |

Abandoned, then homed twice before, Onyx Myers is permanent NOW and gets all the monkeys he wants!



Whaddya want, Easy?
"I'll take Uncle Mitty. Now ask me a HARD question." (Easy Holewinski)


Monkey, Phoebe? Or cat?
"I'll take Elsa, thanks.
Cats make softer pillows."



"I'm from a long line of Maine Coon Cats
and I'm picky about who I sleep with."
(Trey Davis)

| | | |
| --- | --- | --- |
| "A monkey and a new house, too? I'm the luckiest girl EVER!" (Kayla Green) | "Skye and I are totally wrapped up in one another!" says Ozzie Rice. | "Let's play! You hide, I'll seek. Oh wait - I AM "Seek"! (Goldstein) |

"Yes," says Doc Kueberth, "you have to
stay in here. It's for your own protection."



Geoffery to Seek Goldstein: "I don't care what Fruit Loops LOOKS like, he's still MINE!"

| | | |
| --- | --- | --- |
| "Go for it," says Emma Jones. "I dare ya to try." | "Hold STILL, 'Rama. Like it or not, I've got nits for you!" says Cooper Persing. | "Mom SAID I could have 'im. Really!" (Chinadoll Sampson) |
| | |
| --- | --- |
| Darlene Bauman and PB & J have matching collars - at least for now, they do.... | "I may LOOK like a 'Rambo' kinda guy, but I'm really just a snuggler." (Percy Razor) |

"I LOVE this color!" says Tatum Wafer.
"I can find him anywhere - even in the dark!"



After a hard day of Meet & Greeting, Moccasin Holewinski deserves a soft bed
and a softer (albeit noisy) pillow.

| | |
| --- | --- |
| "PILLOW?" asks 8-pound Rihannah Sampson. "Shadow is a whole BED, eh?" | "I've got him down," says Lady Mekker. "NOW what am I supposed to do with him?" |
| | |
| --- | --- |
| "This'll do for appetizers - I'll have PB&J for dinner and Strawberry Shortcake for dessert," suggests Fabian Brockhoff. | Sergei Wilkens meets Rambo: "Hey, we're both sorta camo-colored, aren't we? You're a greyt welcome present!" |
| | |
| --- | --- |
| "Take that, Shadow! All that screaming won't help you. It is I, Zorro Bray, who casts the largest shadow of all." | "I am Speedy Snyder - when I wanna be. Sometimes, like when I feel like cuddling with Fruit Loops, I prefer Sleepy Snyder." |
| | |
| --- | --- |
| Cara Bast appears to be giving Fletcher a Raspberry while keeping Fruit Loops under cover. "You can't have 'im, Fletch!" | "Maybe if I curl up tight around my Easter Froggie, nobody will ever know I'm hiding him." (Brandy Vaceluke) |
| | | |
| --- | --- | --- |
| Nits and kisses, Maude, means Abby Bray loves you best. | You're cheating, Zinnia. This is a monkey page. | "I didn't steal her, I rescued her," explains Brynn Brockhoff |
| | |
| --- | --- |
| "A full tummy, a soft bed, my own gorilla..." ponders Cache Sampson. "It's a little slice of heaven, isn't it?" | Lexi Bray seems perplexed: "It's mine? To keep? It's awful noisy. So, what am I supposed to do with it?" |

"If you want this monkey," states Tuscany Kindler, "you're gonna have
to come through ME..."



"Glamor comes with entitlement - it's
common knowledge. And I'm entitled
to two monkeys." (Truffles Austin)


Stan Watts in the UK, at
12 years, was enjoying increasingly quiet evenings until Georgie arrived...




Christmas or Easter? Uh..EASTER! Froggies are the BEST!" (Obvious from Cara Bast's expression!)




"Pampered? I deserve it!" boasts Gina Austin. "Maybe I'll add some highlights after my shampoo."









"It's true, we're male models. Fortunately, we don't have to do any of those underwear ads other than an occasional Belly Band. We've got good agents, so its mostly coats and monkeys. All things considered, it's not a bad living."
(US citizens Thunder Dumais and Riley Mekker, with Australian, Pharaoh Murphy)


"Leggo you Chubby Mutt!"
"No, YOU leggo, you hairless string-bean!"
The McMahon's, Bonkers and Felicity, discuss their custody battle over Banarama.



Emma and Barnaby Ayers approach
decisions with more civility:
"You can HAVE Banarama, I'm taking Arnold with me! Na na na na NAH na!"

| | |
| --- | --- |
| "You put your right foot in, you put your right foot out..." Annie Long loves the "shake it all about" part! | "You guys are my very best friends," snuggles Barney Trottier. "I'm the luckiest guy ever - GROUP HUG!" |

Calista and Genevieve Simon demonstrate the best way to catch a monkey: A: sneak up cautiously, or
B: the surprise-from-behind maneuver!



"Stay right where you are, Dreamie'" warns Max Russo. "Don't be bringin' that Mitty Monkey over on this soft bed with my Valentine!

| | | |
| --- | --- | --- |
| "Gimme, gimme GIMME!" growls Maddie Anderson. "This is MY Valentine and you can't HAVE 'im!" | You can tell by her collar that JellyBelly was one of Mazie Paquette's MANY Christmas presents! | Topping the FBI's Most Wanted list is Hunter Copland who stole this monkey from a defenseless kitty! |








The Jones Family (some of them). Have you ever seen anyone happier with Valentine Screamers? Oddly enough, after these photos were taken, a new greyhound arrived and you'll never guess her name.... NO, not "monkey"! "VALENTINE!"

| | |
| --- | --- |
| "Eenie meenie miny mo...." Angel Allen contemplates where to begin. | Fletcher Bast knows exactly where to begin: A nice nap with Snowy! |

"Uh... excuse me," mentions Phoebe Gilfeather politely to Millie. "I believe Strawberry Shortcake belongs to me.
But Fruit Loops is pretty, too..."



"Strawberry shortcake certainly IS beautiful," agrees KoolAid Ashley, "and when I grow up, I want to be just like
her! (And just as BIG, too!)"


Brandy Vaceluke really knows how to snuggle with Froggie!
(Or is Froggie being guarded?)



"Take THAT you big purple brute! Just because I'm little, I'm no push-over!" (Pyppy McMurtry)

| | | |
| --- | --- | --- |
| Of all the Danskin kids, only Azi the Azawakh appears to accept monkeys with aplomb. | "Stand back, everybody," worries Augie Danskin, " I think we've got an alien in the house!" | "Not to worry, Augie," says Barbie Danskin. "I won't let 'em try anything. You're safe with ME here." |
| | |
| --- | --- |
| Desert Dog Ruqi the Saluki seems to be thinking, "Strange prey they have in this country... but easy enough to catch!" | "Are you SURE I'm in Barcelona?" dreams Pan Loveridge. "It's not what I remember from 2 years ago. It feels more like heaven!" |
| As natural to them as racing, the Gilly Girls don't require specialized training to perform "Dances With Monkeys." | "BE AWARE!" warns Ramon Mulder. "Notice this collar? I take MY monkeys seriously. Don't even THINK about disturbing my nap." |
| Uncle Mittie figures that if he kisses up to pilot Mike Bass, he might get another free ride to Dewey - only this time, in the cabin. | Puppy Brownie Major-Patton, a tri-athlete, swims in Peugeot Sound, wrestles monkeys in the jungle, and pees like a racehorse. |
| "Strawberry Shortcake," Annie Mulder addresses her new monkey, "what say we stretch out together and get a little shut-eye?" | "WHEEEEE! I'm Baby Schiff, a lucky stiff! Fruit Loops and I can FLY! I toss 'im up and pin 'im down, there's no luckier girl than I!" |
| | | |
| --- | --- | --- |
| Can you say "Specky Mekker" 3 times fast? That's OK. He can't say "Fruit Loops" either. | "Spoiled? NOT. I was born to be a princess." (Cara Bast) | "You have 30 seconds to let go," says Gizzy Mekker. "Consider this fair warning." |
| | |
| --- | --- |
| "Mitty and I need a little nappy," yawns Coal Sprecher. "Call us when it's time for walkies, OK?" | Ruby Eckert goes to the mat with TWO monkeys - she appears to have Snowy down, but Saucy may take the advantage with a reverse headlock. |
| "This may look warm and fuzzy, but Rambo and I are really tough macho guys," says Cody Eberhard. | "I thod I had a code in da doze," Sarah Sibell complains, "but it was only Strawberry Shortcake." |
| "Okay, OKAY. I surrender. Now lemme GO!" laments Skye monkey to Geterbug Krautbauer. | "I think of them all," says Kilohana Newman, "as my children." |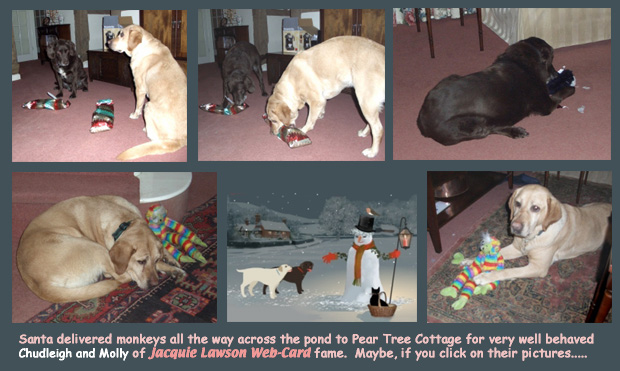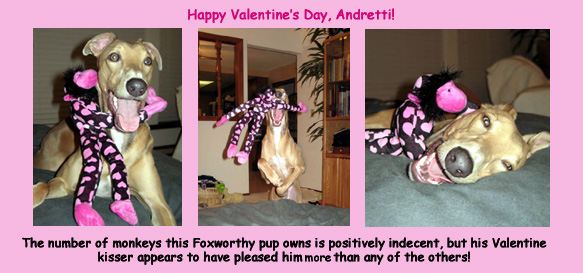 | | |
| --- | --- |
| Her Mamma calls this little San Francisco tidbit "Baygirl" but the Brockhoffs call her a Fuzzy Little Smartypants because she's just too smart for her own britches! | Bananarama has become one of the breed of monkeys now extinct, largely, it seems, because Rufus Buffalo Strovers uses him for practice in subduing simian terrorists. |
| Grand-Dog Gracie Brockhoff, a youngster herself, prefers young ACTIVE monkeys she can swing around in circles. | "You want me to do WHAT with that beast?" asks Cameo Haight. "I don't THINK so." |

"People are gonna think Uncle Mitty took that chunk out of my nose." Coal Sprecher appears intimidated by monkeys.



Brynn Brockhoff doesn't appear to think Monster Monkey is too big for her, nor does she appear inclined to share him with Charles and Diana.



Andretti Foxworthy is introduced to Banarama at only 12 weeks. They appear to have made fast (and noisy) friends.



When Neil Wrona was delivered to his Forever Home, Razzleberry was there to welcome him!



"This is a GIRL monkey, Chico, it's MINE. Go find your own monkey," demands Switcher Lawrence-Cockle.



Senior girls get the softest beds and the biggest and best monkeys. Winnie Haverland demonstrates.



Which is real? Which is the toy?
Loki Kistler-Davis helped sell monkeys at Dewey.


Youngster Murphy Peasley invited Starbuck all the way to Hawaii to play!
Aloha, Murph!



If Cheech Nusen thinks he's having problems NOW, just wait 'til this Dane pup grows UP!



Newly arrived Falana Jamieson discovers monkeys late in life and isn't certain what to think of Starbuck.



"I dreamed of a tall, dark and handsome young hound," bemoans Bonnie Bast, "and awoke to a noisy purple monkey."



"Why you little whippersnapper..." warns Rex as Lexie proves that
bigger does not always mean BETTER in the Chadbourne household.



"I many not be able to play with an injured shoulder," says Nitro Stolzenberger, "but I can guard."



Acey Baumen prefers Snow Monkeys to Snow Bunnies anyday!
| | |
| --- | --- |
| "Starbuck is down for the count," says Thaw Reeves. "I've got him in a head lock and he's not getting up anytime soon." | Littermate, Time Reeves, shows Thaw how to secure two gorillas at once. |
| "A MONKEY? What's a monkey?" asks galgo Pelusa Mcgarigal. "We don't have monkeys in Spain!" | "Is there a monkey for me, too?" asks Roady Buchman. Who could resist eyes like these? |
| "Is she asleep yet?" Kyri Ivy pretends nonchalance awaiting an opportunity to retrieve Lady Bug. | "In just a few months," dreams Poodle pup Warrior Smith, "the shoe is gonna be on the other foot! Just WAIT." |
| "Hi! I'm Heisman Skinner. Do you have a shirt with my picture on it? I'm the star of Heisman GH Art!" | Sugie, newest addition to the Waddell household, required no monkey instructions when presented with her welcome present. |

"I AM behaving myself, Mom! I'm staying right here on the rug just like you told me," says Kiah Bauman. "WHAT monkey???"



Ours is a multi-colored family:Ohio Brockhoffs are Golden, CA Brockhoffs are Grey, but they all love monkeys like Cincinnati Coby does!



"Notice how fast Starbuck learned to roach?" asks Maggie Malat. " I TAUGHT her that! Horses aren't so good at roaching, though."



"No, it's not smoke and mirrors, we're Isabella and Timmy Burmeister, and we each have our own monkeys!"



Casino McKee was comforted by Fruit Loops as he awaited his brother's arrival into his new home. We'll bet he'll get a monkey, too!



"Every once in a while I like to let Arnold think he's winning," says Titus Elrod. "He gets such a kick out of thinking he's in charge!"



"This gorilla is bringing kisses to ME, Phoenix!"
"Lemme HAVE him," insists Hilde Walsh.



Just a baby Whippet, Grommit Caldwell loves to snuggle with Keta and Jelly Roll together.


The Lorenz Family:
To each his own (screamer).



"NO FEET allowed in tug-o-war, Rosie!" says Biscuit Hopple. "You're cheating and I'm TELLING"
| | | |
| --- | --- | --- |
| India Morris would never go out in public without appearing well coordinated. | "This monkey's STRINGY. I need a NEW one, Mom!" Freedom Clark complains. | "I'll tolerate almost anything to get my picture taken (and a cookie)," says Indy Lubner. |
Sometimes owners tell us their dogs prefer MATCHING monkeys and at Northcoast Greyhounds, we do our best to fill the bill as is demonstrated by Pooh Sturgeon, John Burke, Keno Cash, Scooby O'Donoghue, and Penny Weiss.


Krier Trottier made monkeys famous when this picture appeared in the newspaper!



"REALLY," says Louis Welch,
"I just wanna be friends."

| | |
| --- | --- |
| Poor Callie Young. She didn't realize she'd have to share her bed AND her monkey with Puss. | Iggie Oliver Thompson DARES his monkey to scream. |