Hottie Brockhoff 2003-2016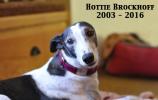 February 11, 2016

Iruska Cream Pie seemed a mouthful to call the newest addition to our family, especially when we were calling Champ, Stu, Alyssa, Kate, Dyna, Sammie and Lexi all at the same time. "Hottie" seemed easier and more fitting for this hot little number who had a pair of stake races at Wheeling in her resume'.
Iruska Zinnia was Hottie's Mother and my first heart-dog (Lexi was my second). I was promised Zinnia when she finished breeding and had to wait two and a half years for her. The same farm called to see if we'd take Hottie, prized racer that she was, and though we agreed, we waited over two years for her, too. Sadly, Hottie was released from the breeding program one month after her Mother died at 14 years. They never got to enjoy one another's company in our home.
But Jerry and I feel blessed to have enjoyed the company of both these venerable ladies for a little over 5 years apiece. Hottie, who shivered continuously and spooked easily, was less outgoing than her Mother, but brave? Hottie was enormously brave to endure our move to Southern California- with days of driving and a whole new home environment to which to adjust, and to visit other homes with other dogs- something she'd never before done. Despite her fears, Hottie would follow Lexi anywhere and was shaky but game for all new experiences- even believing she could walk on water at our son's swimming pool!
Hottie's loss feels the most painful of all, her being the last greyhound in our home. We arrived in Southern California with only Hottie and Lexi a little more than a year ago and Jerry & I feel as though we're still in a state of transition. We're still settling into the area and because of Hottie's senior instability, we felt we could never leave her alone.
Now she's left us alone and its painful. This house is empty- literally empty of dogs and dog beds and feeding stands and water bowls, and... There may come a time when we'll adopt again, but for now, we'll spend more time with local friends and family without one of us having to stay home all the time.
It's not the same here, anyway, without Hottie.