Sadie Brockhoff 1986-1998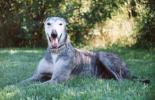 I began composing stories for each of our greyhounds on their Rainbow Bridge Page when we lost Money in 2007. I wish I had done it earlier- for everyone.
Sadie, however, among our earliest adoptions, had her story published in the Winter 1998 edition of Celebrating Greyhounds, and I am happy to add "Sadie's Saga belatedly, all thanks to Marcia Herman, greyhound historian extraordinaire!

Price: $60.00