---
Don't Ask Drops
Featured Item!

Despite consultation, we can not identify the stones in these black & blue drops, lovely as they are. The stones are rough cut, a fact which held particular appeal - why oh why didn't I ask when I chose them?
For those who prefer plain sterling to go with thing, the little drops on the left should fill the bill.

---
Bright Shiny Things
Featured Item!

LOVE these long wires - the sparkle of dichroic glass and Tiny 8Ball can show up for those of us with chin-length hair where studs never show!

Price: $75.00
---
Chinese Turquoise
Featured Item!

At least we think they're Chinese Turquoise- these little earrings are very colorful!

Price: $140.00
---
Featherweight Earrings
Featured Item!

Get it? :) I didn't notice until I photographed the feathers that they're accented with a teeny-tiny opal! And the turquoise earrings are just plain teeny-tiny altogether.
Note the safe closed ear wires.

---
Inlaid SW Color
Featured Item!

Who doesn't love the Southwest colors of Native American jewelry? Especially when combined with Tiny 8Ball?
Both turquoise/opal and serpentine/opal would draw attention to your ears. Both feature closed ear wires for safety.

Price: $90.00
---
Mahogany Jasper Earrings

You can see by the comparison to the 1" map pin that these earrings are about an inch in height. The Mahogany Jasper's deep tones are enhanced by the frilly sterling bezel.
A perfect setting for our Tiny 8Balls, right? He really stands out against this stone's rich background.

Price: $75.00
---
8Ball Earrings

First offered over 15 years ago, 8Ball remains one of our most popular designs, and comes in 4 sizes. Here he is in his original size as earrings.
Price: $70.00
---
Faceted Squares & Gems

Pretty little faceted squares of Mother of Pearl featuring Brynn are hung from tiny gemstone accents.

Price: $90.00
---
Spiny Set

In case you've never met a Spiny Oyster, I brought one home from Tucson- a shame they had no purple ones. :)
The dangly earrings feature a pair of Brynns and Mike adorns the pendant. Both have a Mother-Of-Pearl accent.
the pendant has been sold, but earrings are still available. If you prefer ear wires instead of the Moonstone studs, we're happy to make that adjustment for you.

---
Starfish Earrings

We greyhound people understand The Starfish Story, but one doesn't have to have a greyhound to appreciate these delicate and sparkly earrings! They'd make a lovely gift ....
All are sterling with pave crystals, but 2 pair are gold plated. We have 3 pair in 3 colors: sterling, light gold and dark gold.

Price: $35.00
---
Studs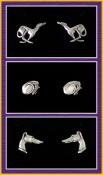 Not greyhound studs- earring studs!

Price: $40.00
---
TQ ER: Sizable Standouts!

Not inexpensive, but sizable, brilliant in color, and featuring Brynn makes these earrings a sizable value!

Price: $175.00
---