---
Long & Dangly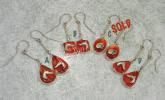 Long and dangly earrings make you look taller! :)
Earrings, being twice the effort and twice the materials as a single pendant, can be costly. You'll see here, that I spent a lot with an artist who specialized in Spiny Oyster because I liked his craftsmanship and his prices.

Price: $70.00
---
Fordite!

I had to prop these up to photograph them because the "diamond" stud is as heavy as the Fordite triangle. I love the pattern of these agates.

Price: $125.00
---
TQ ER: Sizable Standouts!

Not inexpensive, but sizable, brilliant in color, and featuring Brynn makes these earrings a sizable value!

Price: $175.00
---
Chinese Turquoise

At least we think they're Chinese Turquoise- these little earrings are very colorful!

Price: $140.00
---
Azurite Brynn

The title pretty much says it all! The stones have a bit of a curved dimension- fairly thick and not flat. Note the closed wired on these- so much safer!

Price: $115.00
---
Two Abalone Stunners!

With Abalone, it's all in the it's hit by the light. Both these pair sparkle a little more towards pink than blue as is usually the case.

---
TQ & Spiny Drops

Grace's pair, on the left, is a deeper, richer color of spiny oyster than I've seen before- they're particularly stunning! Tiny 8Ball's pair, on the right, are particularly colorful! Both are suspended from turquoise studs.

---
Studs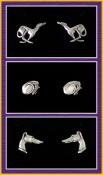 Not greyhound studs- earring studs!
Brynn and Grace remain, but Tiny 8Ball studs have sold out and have been retired (like me!)

Price: $40.00
---