---
OFF the Couch!

Runner isn't racing- he's jumping off the couch! And a lovely turquoise couch it IS, too!
I had to photograph this pendant at an angle to show you the space in its modern setting- and so I wouldn't be reflected in the shiny parts.

Price: $200.00
---
A Burst of Turquoise!

Fully backed in shiny sterling, the front has been oxidized between the stones to make the colors stand out. Our Tiny 8Ball is the center of attention here.

Price: $125.00
---
Aquamarine

This is Aquamarine in a subtle shade and unpolished natural form.
Look closely - you'll see the stone is cut with a horizontal point and Brynn runs above it, tilted to face admirers.
If your birthday is in March, we've got you covered!

Price: $160.00
---
Blue Betty

Or green Betty, depending upon how you look at this two-piece lab created opal slide. Either way, Betty is a knockout!

Price: $250.00
---
Blue Mystery

It's not as hard a stone as chalcedony, though it looks like chalcedony... the blue shade is a little darker at the top than at the borrow. We just can't figure what it IS, other than the perfect blue backdrop for our original sized 8Ball. :)

Price: $80.00
---
Delicate Sterling Mike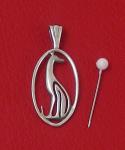 I suppose you could say that Mike is THE classic for Northcoast Greyhounds. He's our earliest design still in circulation, and remains our best selling pendant.
Price: $50.00
---
Fancy Rutilated Quartz

Fancy because the translucent Rutilated Quartz has delicate gold threads running through it, though they don't show up well in this image as they run diagonally through Brynn's chest.
And fancy because the citrine accent stone and filagreed tubular bail dress this pendant up to the max!

Price: $95.00
---
Flower Girl

What can we say?
This gracefully long-necked beauty speaks for herself. One of Northcoast Greyhounds original creations, it's obvious that Flower Girl has moved from a sandy racetrack to her own personal field of blossoms.
Flower Girl's frame measures .875" in width, 1.125" in height.

Price: $60.00
---
Fordite

Nope- I'd never seen it before, never heard of it! But I was so intrigued by the stone's design design that I purchased several pieces. This is a favorite because I liked the rectangular shape that just fit the design (and Mike!) and the tubular bail that enhances it.

Price: $160.00
---
Hand Woven Rhodochrosite

The macrame here is the most complicated in the Bermuda collection- note how a tiny rhodochrosite bead is inserted in the design itself. This is also, the only piece that they had beaded and I just couldn't resist it!
Both of those factors, however, lifted the price to become out of line with the rest of the collection, so I have reduced it accordingly. Greyhounds will benefit a little, just not quite as much! :)

Price: $200.00
---
Jumping the Creek!

Runner's background is Red Creek Jasper- a lovely combo.

Price: $165.00
---
Lepidolite

Ah HA! We finally identified Davie's unusual wine colored stone! If you look closely into it's depth, you can see it's crystals.
We've paired it with the heavier 24" snake chain because it looks greyt with the tubular bail- but it doesn't come with it- only if you add on (discounted $10 here).

---
Matrix Opal

No, I had never heard of Matrix Opal before either- but this sparkly green stripe behind Mikie is evidently indicative of this stone.
Pretty cool!

Price: $85.00
---
More Subtle Dave

Looks like he's the overseer of his domain on this subtlety toned semi-circle of purple jasper, accented by an amethyst teardrop.

Price: $125.00
---
Rhodocrosite

If it weren't for Brynn, the striking pink wavy lines of Rhodocrosite would be the star of this almost-summer pendant! Valuable and desirable as rhodocrosite is, we are limited to the smaller pieces like this one, I'm afraid.
We've shown it on a 24" Adjustable Snake Chain, reduced by $10 if purchased together.

---
T-Shirt Jewelry

Remember these? We offered them two years ago and have more you haven't seen! And since I'm retiring, I've re-priced them. :)
These little natural wood pendants were created in Bali and India to raise monies for the Alpha Montessori School for the impoverished district of East Delhi, India. Now they're earning monies for greyhounds, too! Win-win!
Top row: Original Sized 8Ball, Snoozer and Dave.
Bottom row: Large Sized 8Ball, Double Dogs, and a second Original Sized 8Ball.

---
Three Bermudas

I've left the image large so you can see the complicated macrame of each necklace, so skillfully woven.
The variety of jaspers feature, left to right, Mikie, Large Sized 8Ball, and Snoozer.

---
XL 8Ball

XL 8Ball is a highly noticeable piece, measuring 1.25" across. You'll see him mounted upon some stunningly large jewels, or all by himself as in this picture with both hidden bail for wearing on a chain or pin for wearing as a broach. It was one of our customers who insisted he have both- an excellent idea, too!
Price: $100.00
---