---
Ammonite Two More Times
Featured Item!

Simply set and smaller in size than the two Ammonite pendants below, these two shine brilliantly in green (left) and purple (right) regardless of whether the photographer was able to capture it in studio lighting. (Shame, shame)
You know, right ?, That all purchases are returnable if you're unsatisfied....

---
Carved Inlay
Featured Item!

Not your usual flat inlay, the pieces here each have shape to them and fit together like a tiny puzzle. This jasper and jet pendant comes with its own 18" very fine box chain.

Price: $90.00
---
Rose Quartz Twice!
Featured Item!

Look closely at the setting on the left: tiny 8Ball sits 5/8" from the floor atop this faceted pink piece!
The unpolished stone on the right is every bit as pink as it's neighbor, it's just that it's unpolished surface collects the photography light and puts it out- It will do much better in person! It's as though Mother Nature left a tiny flat spot for 8Ball at it's apex- just perfect!

---
Tiniest Treasures
Featured Item!

Top Left: Rhodocrosite
Top Right: Turquoise
Bottom: Unusual! This is unpolished labradorite - something I've never seen before. The stone's innate colars flash off the bumps and ridges of it's natural surface.

Price: $50.00
---
Tiny Spiny
Featured Item!

The pendant, I believe, appears a smidge more red in this picture than in reality where it's little more orange. This is a little pendant with a big bail!

Price: $60.00
---
Two Amber Healers
Featured Item!

Consult a number of websites and you'll find a number of ways natural amber is believed to be helpful.
Here's my favorite:
"* Cognitive Functions - It is believed that Amber has the ability to help strengthen your memory..."
These smooth and tiny amber chunks are just big enough for Tiny 8Ball, will protect you one way or another!
The left is rounder than the right and their adjustable cords differ in color.

Price: $45.00
---
2 Southwest Inlays

Southwest colors with opal accents make perfect frames for Tiny 8Ball!

Price: $90.00
---
A Burst of Turquoise!

Fully backed in shiny sterling, the front has been oxidized between the stones to make the colors stand out. Our Tiny 8Ball is the center of attention here.

Price: $125.00
---
Amethyst In Crystal

Rarely do I purchase TWO of anything. But every now and then... I just LIKE it that much! Both identical settings are really shiny silver (regardless of photo lighting)- the only difference is the slight shape of the stone itself.
Just beautiful! (So is Brynn!)

Price: $150.00
---
Ammonite Again!

TWO pretty pendants this time! I propped them up a bit to catch the light, but the color keeps changing with each direction of the camera. It was difficult to choose which image to use.

Price: $125.00
---
Blue Betty

Or green Betty, depending upon how you look at this two-piece lab created opal slide. Either way, Betty is a knockout!

Price: $150.00
---
Brilliant Colors!

These two pendants are from the same company as Blue Betty. I didn't discover until I got home that these brilliant opal colors are covered with glass to make them appear even shinier!
I paid too much for them, so they're priced below retail and I've lowered Blue Betty's price, too.

Price: $150.00
---
Fordite!

I was fascinated by the linear designs of this Fordite agate, so I bought a number of pieces- these are the last three!

---
Hand Woven Rhodochrosite

The macrame here is the most complicated in the Bermuda collection- note how a tiny rhodochrosite bead is inserted in the design itself. This is also, the only piece that they had beaded and I just couldn't resist it!
Price: $200.00
---
Northcoast Dave

Not a pendant, a brooch, from our defunct "Sterling Classics" category. Only two remain....
"No, Dave!", our first greyhound, won our hearts over to retired racers long ago and well deserved to represent Northcoast Greyhounds as our logo-dog from our very beginnings.
Even longer ago, the original, more exotic version of this design from which our logo dog evolved, was created by Anita Gersch- we didn't even know it at the time and now, all these years later, Davie is still making new friends for us!
Toe to toe, Dave's sterling broach measures 2.5" in length and 1.25" in height.
Price: $100.00
---
Pink & White Quartz

Unpolished, this chunk of pink & white quartz has been retained in its natural form- I like that!

Price: $150.00
---
Runner Brooch

More often used to adorn designer pendants, Runner makes a stunning little pin all by himself! Only two remaining.
Can't resist including this image of Bailey Bast- is this cool or WHAT?
He's the image of Runner- or is it vice-versa?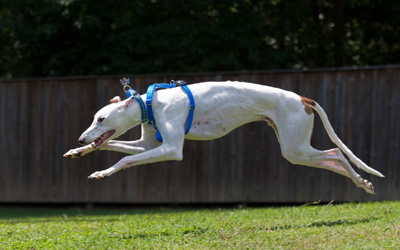 Price: $60.00
---
Septarian

A spooky background for Snoozer! Septarian is such an intricately interesting stone, isn't it? Love it's setting, too!
It will arrive with this very flexible (and FREE) cord of unknown composition.

Price: $175.00
---
Triple threat!

I couldn't resist! These pretty dangles in Southwest Colors were so appealing that I bought one in every color. :) The opal accents provide just a little glitter.
Which do you prefer?

Price: $85.00
---
Wood 'n Glitter!

Another form of T-shirt jewels? :) Loved the patterns in these glittery pendants. The black glitter pendant on the right is adorned by our original sized 8Ball who costs more, thus the difference in pricing, but all three come with their own FREE rubber cord!

Price: $50.00
---