S. LEWIS FABRIC ART
If I could draw like this, I'd be famous- and Susan does it all with textiles!

Susan Lewis has a 30-year history in fabric art, having provided uniquely designed pieces for Nieman Marcus, I Magnin, and numerous boutiques in the San Francisco area. She now resides in Blue Lake with her poodle, Juno, still sewing and tending a garden any horticulturist would envy, and supporting her favorite animal causes.
Please use a credit card for special orders so you won't be charged until your purchase is ready to ship.
---
SL: Special Order Tote Bags

Though you'll sometimes find greyhound tote bags in stock on this page, not everyone knows that Ms. Lewis does an excellent job with other breeds and other pets- even people! Not ALL your friends have greyhounds, right? All she needs is a photograph which you can email to Cara@NorthcoastGreyhounds.net
As you'll see below, the basic Special Order Bag is $45. Add a second figure (a kitty? another dog? your friend?) for an additional $5.
For expediency's sake, Ms. Lewis will ship your bag to you directly from Blue Lake CA in a Flat Rate Envelope, so sorry, no gift wrap is included.

---
SL: Aprons & Wall Hangings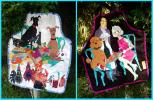 Clicking on the picture will show you a huge image- how else could I show you the exquisite detail of Susan Lewis' skills? Top and side ties are of black grosgrain ribbon. Apron measures 34" in height and 26" wide.
Design your own with your choice of greyhounds, other pets, or people for $225... OR- order the same size in a rectangle for a wall hanging for $250.
Want a different wall hanging size? Just ask and we'll provide pricing. Please use a credit card for ordering - we won't process the charge until your order is ready to ship. We'll communicate about your personal design once the order is placed.

Price: $250.00
---
SL: Extravagant 2-Sided Tote Bag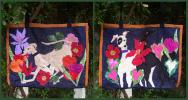 Design your own with pets and people- Ms. Lewis just needs a photograph to do you justice! This particular bag, designed for a customer with three greyhounds, shows two on one side, one hound on the other.
The bag measures 18" wide and 16" tall with a 6" gusset. It has over-the-shoulder webbing handles and a large divider pocket inside.
Denounce plastic bags- take THIS bag to the grocery and start a greyt conversation!

Price: $250.00
---
SL: Fabric Art Jacket

Just finished for Christmas, this jacket was ordered by one woman with a passion for her whippets, her Chihuahua, a white kitty with different colored eyes, and lotus blossoms! Do visit Ms. Lewis' Sample Album highlighted above to see four views where everyone's included.

Ms. Lewis' wearable art sells for much higher prices at luxury boutique Kati Koos in San Francisco, but can be special ordered here for $500.

Because these are costly items which we don't have to actually stock, Northcoast Greyhounds will not use the normal keystone markup, but will contribute $100 of the cost of each jacket ordered to Greyhound Support Transport - helping to move Florida greyhounds to new homes in non-racing states.




Price: $600.00
---
SL: Tablerunner



Finished just in time for one holiday order, this tablerunner measures 94" X 20" and features the dogs described by our customer. It also uses her specific choices in design colors. Note that it's viewable from both sides of the table and is signed by Ms. Lewis in the upper right-hand corner.
I had to use some Photoshop tricks to show you the entire lengthy piece- if you'd like more or bigger pictures, just ask! You are welcome to order your own, but please give Susan several weeks to create it for you....

Price: $400.00
---
SL: Christmas Stockings!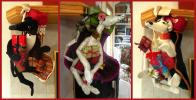 Oh MY! The brocades... the satins.... the velvets... each one of Susan Lewis' Christmas stockings is a masterpiece in itself! These three were created from the photographs of the three dogs of a single client.
When an order is placed, i follow up with an order form so you can add your own personal touch to Susan's artwork. Please use credit card rather than PayPal when ordering- we won't process a charge until your stocking is ready to ship - Note shipping charges will be accurate- these will ship UPS.
Price: $250.00
---