---
Biggest Bracelet EVER!
Featured Item!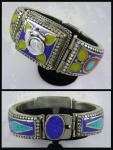 Several of you have asked for big, bulky bracelets, so I purchased two, one has already been sold- here's the second!
Imported from India, it's impossible to ignore the artistry in these bracelets. And the COLOR- Oh MY! It's difficult to understand how they can offer pieces like this at such a reasonable price.
SOLD

---
Shiny Pyrite
Featured Item!

The construction, by Living En Burmudas, is the feature here. The stone is pyrite and is evenly hued. Pyrite is so beautifully reflective that glare & shadow just couldn't be avoided- don't let the photo suggest otherwise. Even Brynn casts a shadow!
I just had to include a side view so you could see how the stone is sliced in half and applied after the artful and innovative macrame was created.
I met this handsome young French couple in Tucson and watched, fascinated, as they created their complicated designs on the spot! I hope you'll take a moment to see more of their creations and their story HERE!

Price: $150.00
---
For Tailored Tastes

"Runner" was recreated from an antique 14K gold brooch and it's not often that we find a stone to do justice to his size and shape- this 2.25" piece of Mexican Agate just fits him to a T!

Price: $285.00
---
Less Is More

Some of our jewelry is created to hope an admirer will say, "Oh my GOSH! It's a Greyhound!"
With others, we hope the reaction would be, "Oh, what a lovely bracelet! And is that a tiny greyhound on it, TOO?"
We already know which impression was what convinced the wearer to purchase it. :)
This fabulous bracelet of multicolor lab created opals measures 7.5" and even has a very special clasp.

Price: $275.00
---