STERLING CLASSICS
Basics, originals and regularly stocked pieces, the items you see on this page are always available- or are easily replenished.
Everything here can be special ordered in 14K Gold with delivery taking about 3 weeks. Because of the ever-fluctuating cost of gold, however, we need to get a quote from our caster to provide you with a cost. Please don't hesitate to ask.
The standard 1" map pin has been included for size comparisons- comparing the pieces to one another's images will lead you to faulty conclusions in size!
---
Flower Girl

What can we say?
This gracefully long-necked beauty speaks for herself. One of Northcoast Greyhounds original creations, it's obvious that Flower Girl has moved from a sandy racetrack to her own personal field of blossoms.
Flower Girl's frame measures .875" in width, 1.125" in height.

Price: $60.00
---
Northcoast Dave

"No, Dave!", our first greyhound, won our hearts over to retired racers long ago and well deserved to represent Northcoast Greyhounds as our logo-dog from our very beginnings.
Even longer ago, the original, more exotic version of this design from which our logo dog evolved, was created by Anita Gersch- we didn't even know it at the time and now, all these years later, Davie is still making new friends for us!
Toe to toe, Dave's sterling broach measures 2.5" in length and 1.25" in height.
Price: $100.00
---
Runner

More often used to adorn designer pendants, Runner makes a stunning little pin all by himself!
Can't resist including this image of Bailey Bast- is this cool or WHAT?
He's the image of Runner- or is it vice-versa?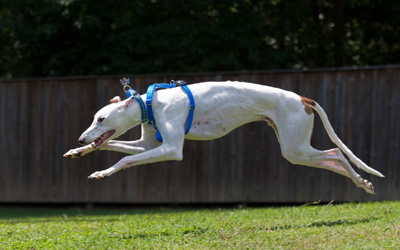 Price: $60.00
---
8Ball With CLIPS!

For those without pierced ears....
One single pair. :)
When we're asked for them, we have none. And when we have them, no one asks!

Price: $75.00
---
Betty Pendant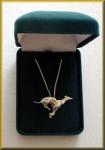 Copyrighted by Silk Road Collars, Sue Ross has graciously allowed Betty to join the NCGS Designer Dog Family.
You'll see Betty among all our Unusual Jewels, mounted upon finished pieces but the only place you can buy the original Betty pendant is from Silk Road Collars!

---
Studs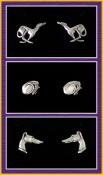 Not greyhound studs- earring studs!
Brynn and Grace remain, but Tiny 8Ball studs have sold out and have been retired (like me!)

Price: $40.00
---