---
Absolutely Amazing
Featured Item!

It doesn't have to be a set, but I am hoping these two beauties will stay together. Absolute does stunning work and the opals in these coordinating pieces really stand out.
The cuff is 1.75" wide and can be sized to fit while the pendant is 1.5" tall not counting the bail.

---
Pink Opal!
Featured Item!

Pink Opal comes from South America and this 2" square pendant does an excellent job of displaying it! Stems & Gems creates pendants using gold fill, shiny sterling, and oxidized sterling, so the bronze & sterling Double Dogs are the perfect enhancement.
Best, S&G's bail, with its opening clasp, allows you to wear this on a heavier-than-usual chain as this jewel deserves.

Price: $200.00
---
Russian Amazonite
Featured Item!

By Stems & Gems who creates their jewelry with multicolor metals so you can wear it with gold or silver! We've added Tiny 8Ball in bronze to match the scroll designs in gold fill that decorate the sterling background. Note the trademark bail that this company provides- it opens as a clip to hang on any size necklace or even a string of beads.

Price: $140.00
---
SMOOTH Amethyst!
Featured Item!

You don't see them very often, do you? Most amethysts are faceted into the familiar gemstone shapes. Here's one that is freeform and polished smooth- with a Tiny 8Ball in bronze atop its dome to match the versatile gold filled opening clasp that Stems & Gems provides.
Wear it with a sterling chain to enhance the tricolor effect of the setting: sterling, oxidized sterling, and gold fill.

Price: $145.00
---
Spiny Oyster Ring
Spiny Oyster shells range from really really orange to lovely purples like this one. Marta Howell's adjustable ring features Grace.

Price: $130.00
---
3 Opal Inlays

Handmade and signed by Carmichael Haloo, each of these little pendants come with their own chain.
The right and left pendants have 18" bead chains and the center pendant's circle chain is a little longer- almost 20".

Price: $99.00
---
8Ball

8Ball is our Main Man- er...greyhound. Not only because he's so highly admired, but because his shape accommodates so many different uses. You'll see all three sizes of 8Ball often on our website, and an even tinier version as well - as in earring studs on this page.
The first, and original size is available as a charm, with a spring ring for affixing to your bracelet, and as the one shown here, with a fixed bail set perpendicularly to slide on a chain. He measures .75" from side to side.
Price: $40.00
---
8Ball Framed

8 Ball, like flower Girl, resides within woodsy frame measuring 1.375" including the bail. The flower centers are oxidized for emphasis.
Price: $65.00
---
Ab Fab I

Remember that show AB Fab? Absolutely Fabulous? It seems a greyt name for the new Absolute pendants from the 2017 Tucson Gem Show, starting with THIS one: lapis and opal with Original sized 8Ball.

Price: $225.00
---
Abalone at its best!

Marta Howel Designs cover everyone's taste- from the very simple, to more unique, to really dressed up! Very large to very small- these two give you a choice between our original sized 8Ball with blue topaz accent and our Large sized 8Bal with amethyst accentl- both gorgeous, one just bigger in every way.

---
Amber Duo

Of deep amber and butterscotch amber colors, you won't be able to see it in the picture, I don't think, but Tiny 8Ball rests inn a perfectly sized little depression in the upper stone. Lovely!

Price: $125.00
---
Amber Inlay

The first of three I purchased: complicated design in a simple setting, this really appealed to me. Hope you feel similarly!

Price: $150.00
---
Ancient Glitter

This circle of quartz druzy has been inlaid into a dark stone of fossilized material in browns and blacks- just stunning! Some parts of the druzy circle are totally open while others are sufficiently translucent that the blue background shows through.
Adorned with our Large Sized Dave, this 2.25" pendant is a statement maker!

Price: $250.00
---
Ball o' Bling!

That's our original sized 8Ball mounted upon oval of wood in a frame of oxidized sterling and patterned with black spinel. It's weightier than it looks!
The spinel looks better than it photographs, too- like marcasite.
I really admire this clever designer!

Price: $75.00
---
Betty Pendant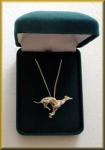 Copyrighted by Silk Road Collars, Sue Ross has graciously allowed Betty to join the NCGS Designer Dog Family.
You'll see Betty among all our Unusual Jewels, mounted upon finished pieces but the only place you can buy the original Betty pendant is from Silk Road Collars!

Contact Us For Pricing
---
Boulder Opal

Even though the light blue inclusions are not the neon-shimmery color of many opals, this is still Boulder Opal and I like the natural/uneven finish on Mike's background.
I took the photo from an angle so you can see that this is a thick pendant- nearly 1/4"! Just lovely!

Price: $140.00
---
Christine Jones

Christine Jones is a local Southern California artist whose skill imbedding pieces of natural wood in acrylic fascinating! This is all that remains from our sizable original purchase, but more are forthcoming in the near future.

---
Chrysophase

And what a hunk of chrysoprase this is, too! Seeing this pendant straight on shows that it is beautiful (so is Betty!) but wouldn't show you that this pendant is 3/8" thick! It's heavy with sterling and a beautiful color.

Price: $175.00
---
CJ Set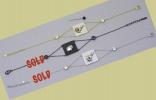 This clever pendant of wood and acrylic by Christine Jones has a matching set of earrings- sold as a set only. The chain measures 20".
Price: $115.00
---
Crazy Lace

Who wouldn't want to wear a stone called "Crazy Lace"? Especially with its so-very-intricate patterns AND constructed by Absolute with matching bail?
And most especially with a gorgeous greyhound like Mikie as the feature?

Price: $175.00
---
Delicate Sterling Mike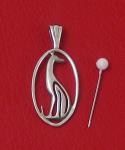 I suppose you could say that Mike is THE classic for Northcoast Greyhounds. He's our earliest design still in circulation, and remains our best selling pendant.
Price: $50.00
---
Dendrite

Dendrite with aquamarine accent featuring Tiny 8Ball

Price: $200.00
---
Diamonds....

Another of the cool wooden pendants- this time with "diamonds" and our original sized 8Ball.

Price: $85.00
---
Druzy Ring

By Marta Howell- small, at only one inch across, this summery adjustable ring features Grace.

Price: $140.00
---
Fleur de Lis Dave
A new addition. Small and feminine, Davie just fits across the top of this Fleur de Lis with its little sterling dangle at the bottom.
Price: $65.00
---
Flower Girl

What can we say?
This gracefully long-necked beauty speaks for herself. One of Northcoast Greyhounds original creations, it's obvious that Flower Girl has moved from a sandy racetrack to her own personal field of blossoms.
Flower Girl's frame measures .875" in width, 1.125" in height.

Price: $60.00
---
For Your First T-Shirt

Choose either our Littlest Dave or Double Dogs in sterling & bronze on natural woods.

---
For Your Second T-Shirt!

choose among two different Original sized 8Balls and the centered Large size on natural woods.

---
For Your Third T-Shirt!

Choose among the Lying Down Greyhound, Betty, and Max The Roach! All on natural woods.

---
Fosilart

Of course you recognize David Lawrence's Fosilart- these little pendants are the last of my collection from last February- making room for more next February!

---
Fosilart Long #2

One more long and lovely design by Ed Lawrence of Fosilart featuring our tiny 8Ball. 32" not counting the pendant.

Price: $110.00
---
Labradorite Set

Well, they can be a set, or they can be purchased separately- check the 15% discounted pricing if purchased together.
In either case, Brynn stands out against the shimmery deep blue-green labradorite.

---
Larimar Mike

It's not easy to find Larimar at an affordable price, but we did! And we like this piece especially because it looks as though Mike has his head in the clouds!

Price: $125.00
---
Lavender Agate

I'm guessing that this unusual agate has been tinted- how else would one get such dramatic color in an agate? The most interesting thing about this stone, though, is the clean line of division between the lavender and the translucent part of the oval.
Very cool!

Price: $110.00
---
Loveliest Lapis

"Kaiser" brings a showcase full of lapis to the Tucson Gem Show from his German workshop every year, and every year I purchase from him.
The quality of Kaiser's lapis needs no embellishment by a setting and I admire the simplicity of this stark and dark blue background to emphasize our greyhounds.
These perfect lapis chunks are hand cut and drilled with a hole through the top and measure 1/4" in thickness.

---
Marcasite

Marcasite with Pink Tourmaline Accent

Price: $200.00
---
Marcasite II

Marcasite with Watermelon Tourmaline Accent

Price: $200.00
---
MH: Pawa Shell

Actually, Im not certain of the difference between Pawa Shell and Mother of Pearl but Marta Howell calls it Pawa and this is their design. :)

Price: $90.00
---
Mica In Slate

A spectacular new stone that I've never before seen. The mica appears to erupt from the natural cavities of the slate and glistens like hidden treasure.
The artist who made them said the trick is to split the stones with a sharp edge rather than cutting smooth surfaces.
The slate is matte black- any lighter surfaces are caused by flash and inept photographer.
Contact Us For Pricing
---
Opal Dog Tags

Yes, again. I buy them every year in Tucson, popular and well-priced as they are!
I am always happy to encounter this vendor at the Gem Show- they manufacture cultured opal for the jewelry trade, showing row upon row of 2"opal squares in every color imaginable.
They all glimmer more than I can photograph properly. The 23" teeny tiny bead chain is included. One of these is not like the others.

Price: $85.00
---
Power Pawa Shells

I often purchase Marta Howell's little plain rectangles of abalone and paws shell- or those with a single semi-precious stone. They're like perfect little picture frames for our smallest Designer Dogs.
MH designs, however, are not all plain and simple- they do glamor, too, as you can see here with these two curvy pendants with hidden bails. They're just more pricy. Gorgeous, though!

---
Quality Neutrals

By Absolute, of course- their jewels are always quality and identifiable by their matching inlaid bails. This is Ocean Jasper but Flower Girl would prefer to think it's woodsy jasper.

Price: $180.00
---
Roaching Pagoda

Not a very nice name for such an elegant pendant, but I figured greyhound readers would rather read "roaching" than upside-down. :)
This hinged pendant actually has five moving parts - as graceful as it is beautiful.

Price: $155.00
---
Rutilated Quartz

Rutilated Quartz with Rubenite Tourmaline accent

Price: $200.00
---
Shades of Amber

Dark fading to light, this is a beautiful and a bit translucent stone featuring our original sized 8Ball.

Price: $135.00
---
So-delight-fully 8Ball

This delightfully colorful chunk of sodalite is surrounded by a beaded bezel and centered by our Large Sized 8Ball.

Price: $125.00
---
Stalactite the Second

I would have called this a geode, but what do I know? :)
Sanche & Filia, the creators of this pendant, call it stalactite, so I'm going with that.
Brynn is the feature for this delicate, colorful and affordably priced pendant.

Price: $55.00
---
Wave Ring, Blue Stone

Marta Howell, who creates these rings, calls this stone "Swiss London Blue". It is abalone, of course, and adjustable.

Price: $130.00
---
Wave Ring: Spiny Oyster

Spiny Oyster is always more costly than Marta Howell's paua shell and abalone jewels. The natural color is so beautiful that any added stone would just seem superfluous.

Price: $130.00
---
Western Mosaic

Unlike the flat inlays I almost always choose from Absolute, the stones in Mikes little pendant each have their own individual shape and form. Way more interesting than flat, don't you think?
And, as with all of Absolute's quality crafted products, the matching bail is what makes it most special. :)

Price: $160.00
---
XL 8Ball

XL 8Ball is a highly noticeable piece, measuring 1.25" across. You'll see him mounted upon some stunningly large jewels, or all by himself as in this picture with both hidden bail for wearing on a chain or pin for wearing as a broach. It was one of our customers who insisted he have both- an excellent idea, too!
Price: $100.00
---