---
A Pièce De Résistance
Featured Item!

This weekend's pièce de résistance is this Ocean Jasper teardrop in elegant shades of grey. by Absolute, it has a matching bail and their special new decorative edge.
So perfect is it for Mike that I cannot imagine the pendant without him. It would look just plain... empty, wouldn't it?
SOLD

Price: $260.00
---
Cowboy Jasper!
Featured Item!

Big and beautiful and inlaid with different sizes and colors of all-cowboy-jasper with a bail to match. Big enough to support our Large sized Dave.
An Absolute Masterpiece of Fall color!
SOLD

---
It's SODALITE?
Featured Item!

I didn't know know and had to rely upon a customer to identify this lovely stone for me! It's definitely one of the most interesting pieces of sodalite Iv'e seen in sometime with colors very deep and definite.
THANK YOU, J! :)

Price: $85.00
---
Modern Betty
Featured Item!

Oops- I got so involved trying to show you how this pendant is hung from the top of its double-circular bezel, that I forgot to include a 1" map pin for sizing.
From the top of it's round bezel to the tip of this freeform turquoise slab, Betty's pendant measures 2.25".
This pendant is a knockout!>
SOLD

---
Pearls and Nuggets
Featured Item!

Stems & Gems is noted for it's mixture of metal colors, but this particular pendant is all in hammered sterling and sterling wire wrap.
This company is also noted for using a clasp which opens so you can wear it on all sorts of necklaces and chains, so we've accentuated that fact by adding a 17" necklace of silver (not sterling but weighty and decorative!) nuggets hand-tied in Bali. Mix and match it on your own necklaces.
Price: $175.00
---
Tiny Turquoise
Featured Item!

For admirers of very delicate jewelry, this tiny turquoise with Tiny 8Ball and blue topaz accent fills the bill!

Price: $75.00
---
Transparent Agate...
Featured Item!

...with a couple of black swooshes! Interesting! It gives our littlest Davie a platform to stand on (or lie on) and will match whatever you happen to be wearing.
The bail is so tiny, that we've added one of our 17" fine omega chains which fits perfectly!

Price: $75.00
---
Uphill Battle
Featured Item!

It's an uphill battle for many greyhounds, but Brynn appears to be enjoying it on this piece of jasper with striations of color. The 18" braided leather cord just seemed destined for this pendant so we included it.
SOLD

---
Wear With Grace
Featured Item!

A pair of lovely little dangles:
Left: Sodalite druzy, fossil and moonstone
Right: Amazonite and a pair of peridot colored crystals
Either will make your neck appear long and grace-ful!

Price: $85.00
---
8Ball Framed

8 Ball, like flower Girl, resides within woodsy frame measuring 1.375" including the bail. The flower centers are oxidized for emphasis.
Price: $65.00
---
Boulder Opal

A surprise, really- I chose this Absolute pendant because it has a plain colored "island" among the more intricate inclusions that seemed perfect for 8Ball.
But when I prepared to put 8Ball on his "pillow", little glints of color- all different colors - flashed at me from the spaces between the tiny islands surrounding him!
Move it around it in the right light and you'll be surprised, too!

Price: $175.00
---
Chalcedony

Tiny 8Ball in bronze matches the gold fill braiding on the hammered sterling background of this faceted chalcedony pendant. Pendant is by Stems & Gems
We've added a 36" triple strand of tiny silver (not sterling) beads to emphasize the open-able clasp that allows you to move the pendant to your own collection of beads and chains.

Price: $175.00
---
Delicate Sterling Mike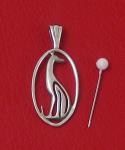 I suppose you could say that Mike is THE classic for Northcoast Greyhounds. He's our earliest design still in circulation, and remains our best selling pendant.
Price: $50.00
---
Flower Girl

What can we say?
This gracefully long-necked beauty speaks for herself. One of Northcoast Greyhounds original creations, it's obvious that Flower Girl has moved from a sandy racetrack to her own personal field of blossoms.
Flower Girl's frame measures .875" in width, 1.125" in height.

Price: $60.00
---
Lapis

Created by a Polish company specializing in Lapis Lazuli, this modern sterling setting really highlights our Original Sized 8Ball.

Price: $140.00
---
Pagodas!

The quality work of Marta Howell returns with these delicate Mother Of Pearl tiers featuring Tiny 8Ball. Accent stones are in aquamarine and peridot colors.
We've offered this design with more tiers in the past- they're lovely but very costly where these are delicately attention drawing.

Price: $100.00
---
XL 8Ball

XL 8Ball is a highly noticeable piece, measuring 1.25" across. You'll see him mounted upon some stunningly large jewels, or all by himself as in this picture with both hidden bail for wearing on a chain or pin for wearing as a broach. It was one of our customers who insisted he have both- an excellent idea, too!
Price: $100.00
---